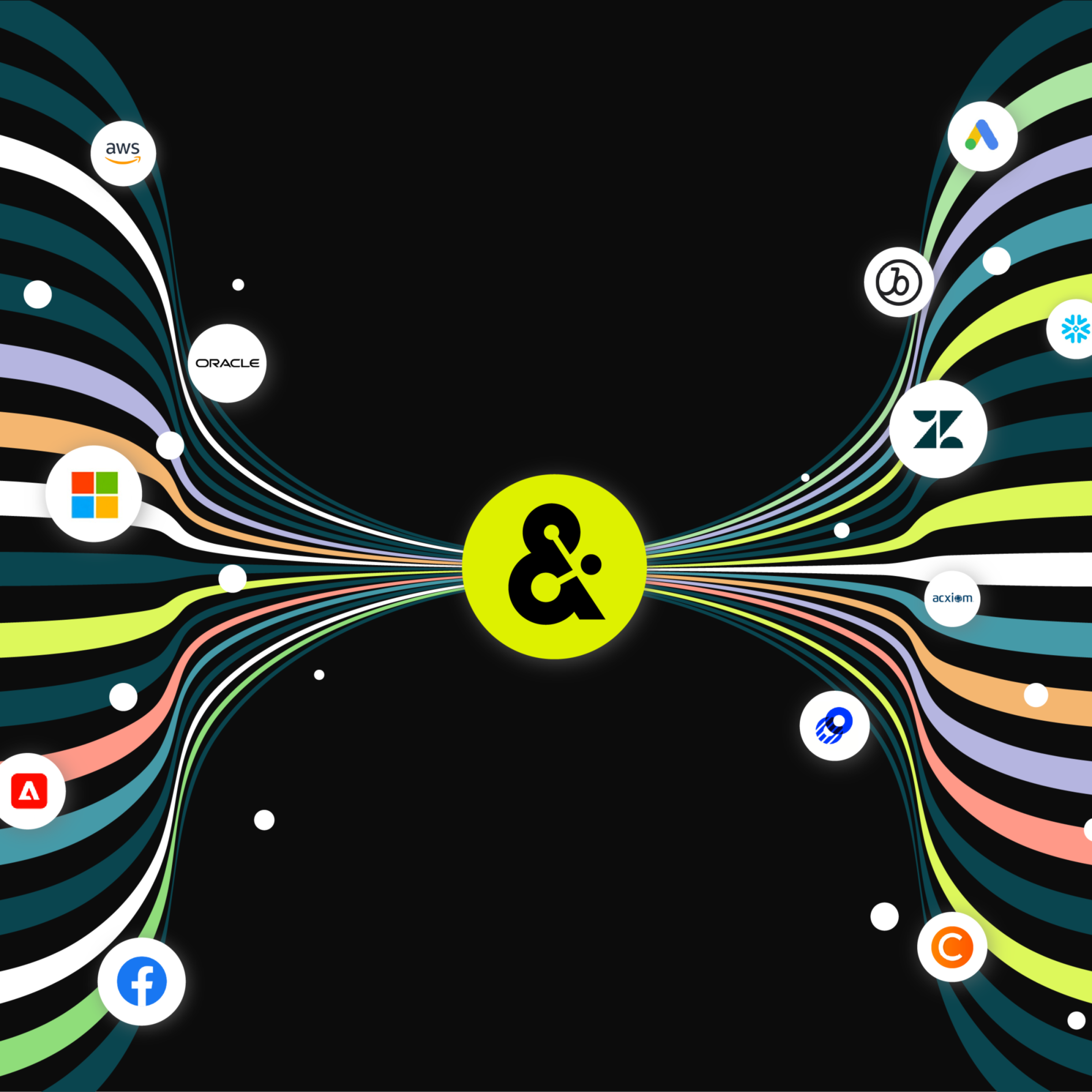 Hundreds of Integrations to the Systems You Rely On
Amperity breaks down data silos by ingesting data raw and at-scale, resolving identities to build true customer 360 views, and activating data in the marketing, analytics, customer service, and data management systems you rely on. We offer hundreds of pre-built integrations with the most popular tools.
Don't see what you need? Reach out, we can integrate with any system.
Categories
All Integrations (190)

Advertising (28)

Agency (3)

Analytics (22)

Attribution (1)

CRM (11)

Collaboration (7)

Content Delivery Network (1)

Customer Data Infrastructure (1)

Customer Success (14)

Data Services (11)

Data Warehouse (11)

Developer Tools (9)

E-Commerce (21)

Email Marketing (19)

Event Management (3)

Marketing Automation (18)

Mobile (2)

Payments (13)

Personalization (7)

Privacy (1)

Raw Data (36)

SMS & Push Notifications (7)

Surveys (5)
Types
Microsoft SQL Server is a relational database management system for storing and retrieving data as needed by other software applications.
---
Qualtrics empowers companies to capture and act on customer, product, brand, and employee experience insights in one place. Surveys and survey responses are sent directly to Amperity.
---
Salesforce Interaction Studio enables companies to deliver contextually relevant experiences in real-time across their channels.
---
AmpIQ v.1 is a hub for customer intelligence and activation
---
Analytics
Personalization
A/B Testing
Source & Destination
Amplitude is a comprehensive product analytics software for web and mobile.
---
Google Analytics analyzes data about customer engagement with your website or application.
---
Google Analytics (MCF) analyzes how multiple marketing channels influence conversions.
---
Google Analytics 360 helps enterprise teams who need to get actionable insights from their data.
---
HubSpot is inbound marketing and sales software that helps companies attract visitors, convert leads, and close customers.
---
Analytics
Email Marketing
CRM
Source
Heap automatically captures every web, mobile, and cloud interaction: clicks, submits, transactions, emails, and more.
---
Koupon Media offers promotion and analytics solutions for retailers and brands.
---
LinkedIn Ad Analytics provides real-time data on your campaign performance and demographic insights.
---
Mixpanel tracks user interactions with web and mobile applications.
---
Netsuite SuiteAnalytics offers built-in real-time dashboards, reporting, and analysis all integrated right into the ERP, CRM or e-commerce application that you use every day.
---
Formerly known as DataLogix. Oracle Data Cloud sends data to and from Amperity via direct.datalogix.com
---
Pendo helps product teams understand and guide users to create product experiences.
---
Snowplow lets you to gain full control, ownership, and visibility of your data.
---
SMG combines technology and strategic services to collect, analyze, and share feedback and behavioral data to enable brands to deliver and activate insights across their enterprise.
---
Marketing Automation
Analytics
Source & Destination
Splunk lets you investigate, monitor, analyze, and act on your data.
---
SoundCommerce ties together operations data from across merchandising, supply, fulfillment, delivery, and customer service.
---
Marketing Automation
Analytics
Source & Destination
YouTube Analytics gives you a comprehensive set of YouTube Analytics data for a channel or content owner.
---
Yahoo Gemini drives traffic to your website, raise brand awareness, promote your app, and increase your online sales.
---
See how Amperity can work for your organization
Put the power of Amperity to work today