Software & Service
Let's get to work
---
Enterprise-level Support for Self Service
Best Practices Enablement
PREMIUM SERVICES
Core services and more
---
Platform Administration
Named Support
Data Strategy Consulting
Customer Analytics Consulting
Marketing Activation
Lison eats customer intelligence for breakfast
"One of my favorite things about working at Amperity is getting to work with customers every day, hear about your challenges and get creative and on how we can work together to help solve them. I'm also a huge data nerd. So I just love the sheer volume and types of data that we get to work with every day.
I understand and have empathy for the long timelines and many partners that you have to work with internally to get marketing programs off the ground."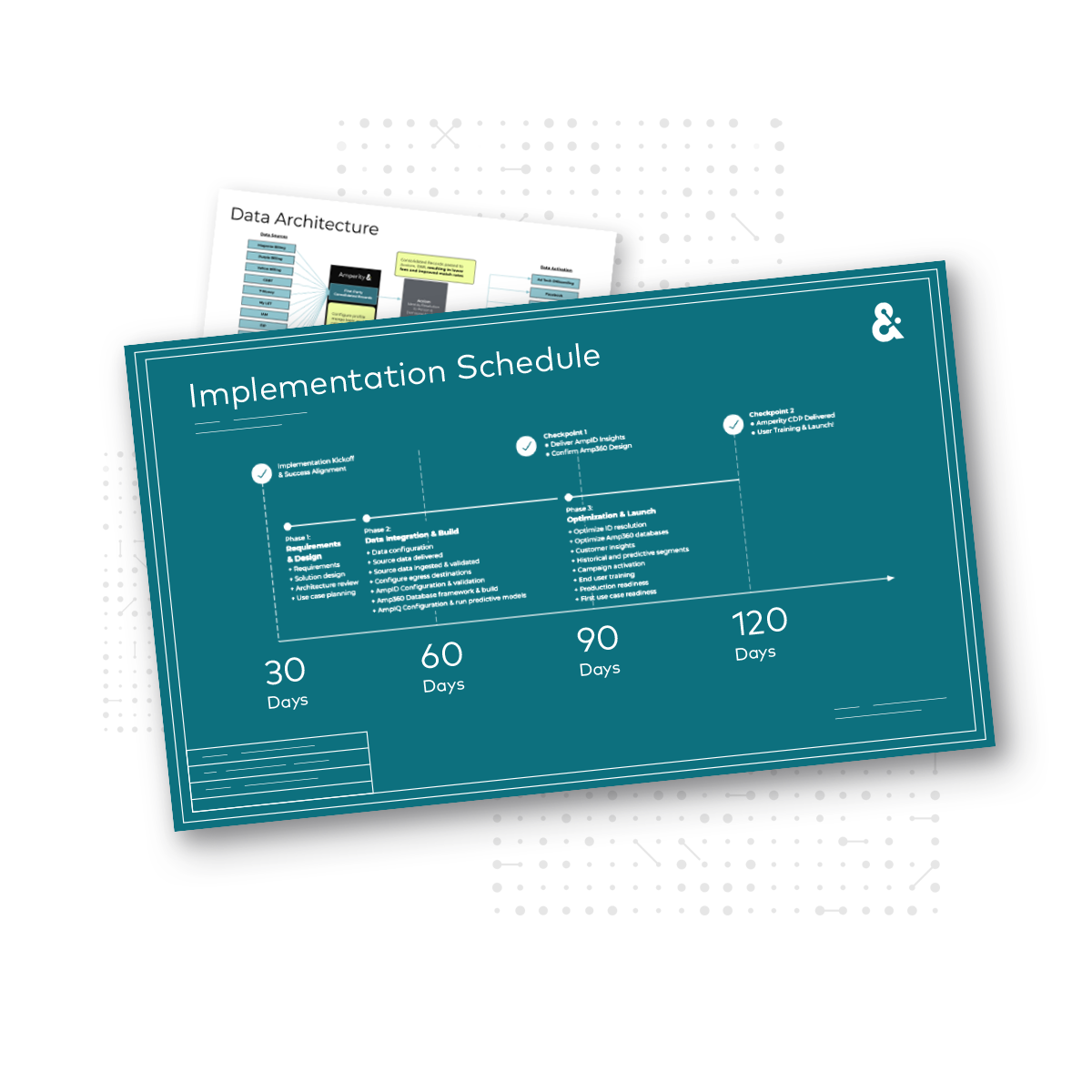 Implementation:
Building your CDP

The implementation phase is similar to building a house. It requires careful planning, leadership, and coordination across a multidisciplinary team of experts to transform a vision and raw materials into reality. It's hard — and for good reason. Transforming tools and teams that don't typically communicate requires deep expertise. The good news: we've done it hundreds of times and know what it takes for a variety of organizations and tech stacks. Our technology is built to make this as seamless and fast as possible, and our teams are designed to carry you the rest of the way there. Whether you'd like to be totally hands off, or more self-service — our implementation approach adapts to your unique preferences to construct the CDP of your dreams.
Ongoing partnership:
Putting your customer data to work
Transforming your business with a CDP is an exciting journey. Successfully using your customer data to better serve your customers requires a well-formulated strategy and a plan for execution. Amperity's team of practitioners are the best and brightest in the industry. Need help identifying the most critical customer segments and developing tailored marketing strategies? Or support spinning up a new customer dashboard in Tableau? Or training for new teams to start using customer data for the first time? We come equipped with a proven methodology to help you achieve your customer-centric business goals.
Our people? Your people? We're flexible
Use our premium services, go self-service, or work with our direct network of System Integrators, Consultancies, Agencies, and Technology Partners. We know that our ability to work hand in hand within your preferred model is critical to success.
Onboarding
Implementation Services
Work with a dedicated team of solutions experts to design your implementation, tailored to accelerate your business goals and amplify your success.
Success Planning and Architecture Workshops

Tailored Implementation Plan
Implementation of your CDP
Named Implementation Team including an Implementation Manager and Technical Consultants
Product Training
Post-Implementation
World-class customer service and support
Included in subscription fee
Platform Administration
---
Self-service platform management and changes via our admin and sandbox tools; support to push to production via our Implementation team
Training & Deployment
---
Standardized platform training and robust documentation for your Technical, Analytics and Marketing teams
Support
---
Platform support with SLA commitment via email, our Support Portal, or in-platform; monitoring and maintenance of data workflows by our Support Engineers and Engineering team
Customer Intelligence
---
Annual "Launch Plan" of customer insights and prioritized program recommendations
Marketing Activation (for AmpIQ customers)
---
Quarterly consulting on marketing activation of Amperity audiences